From Lobbyist to Legislator
Walking the Halls of the Capitol
Listen to our podcast on your favorite podcast platform: Apple Podcasts, Google Podcast, Spotify, Anchor.fm, Breaker, Pocket Casts.
Using Internet Explorer or Microsoft Edge, listen on RadioPublic.
Walking the Halls of the Capitol: From Lobbyist to Legislator
From the Civil War to the mid-20th century, women often faced difficult choices: between marriage and family or a career in the public eye; between suffrage activities or supporting a nation at war; and between staying with accepted modes of political participation—petitioning—or taking a more direct approach—lobbying, testifying and running for public office.
In 1916, Jeannette Rankin became the first woman elected to the House of Representatives. Her long and fascinating career in political life paved the way for more women to take on a new role in the legislative process.
In the century since Rankin's election, the ever-larger number of women serving in both the House of Representatives and in the Senate impacted Congress, the architecture of the Capitol itself, and our country.
This wide-ranging discussion highlights several women who walked the halls of Congress.
Guest Speaker: Farar Elliott, Curator, U.S. House of Representatives
For more information, view the web version of House of Representatives' publication, Women in Congress.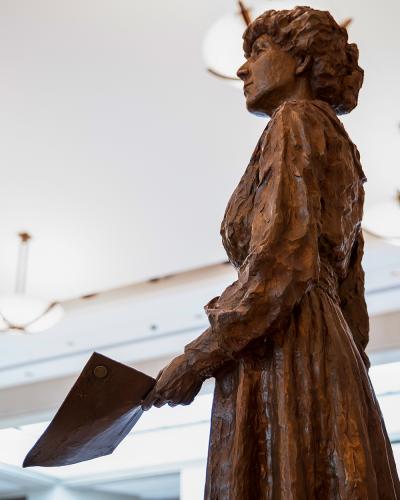 The state of Montana gave this statue of Jeannette Rankin to the National Statuary Hall Collection in 1985. Rankin was the first woman elected to the U.S. House of Representatives.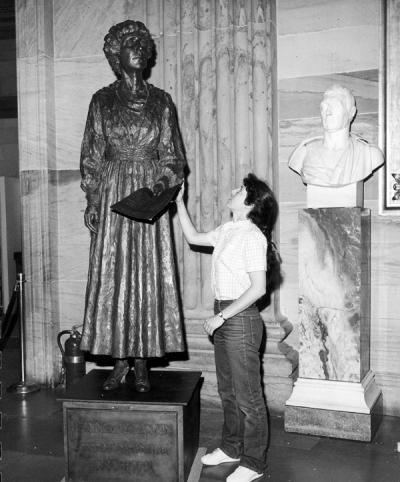 Terry Mimnaugh, (1956- ) Courtesy of the Architect of the Capitol Artist Terry Mimnaugh stands with her statue of Jeannette Rankin.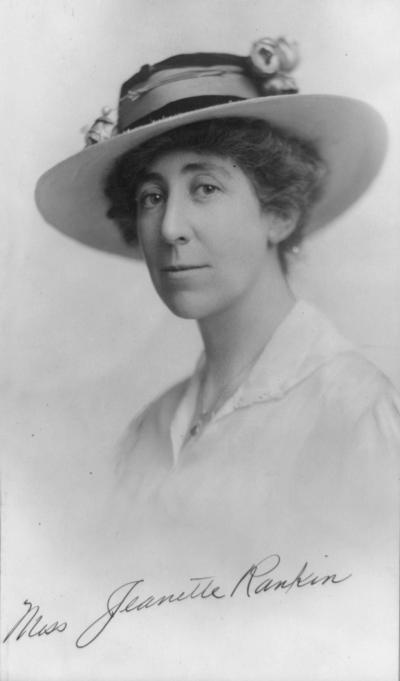 Jeannette Rankin, circa 1916
This photographic print of Rankin shows her in her iconic hat, one of many examples of the evolving fashion of women in Congress. To learn more about Jeannette Rankin and to see the painting in the Collection of the U.S. House of Representatives referenced in this podcast, click here.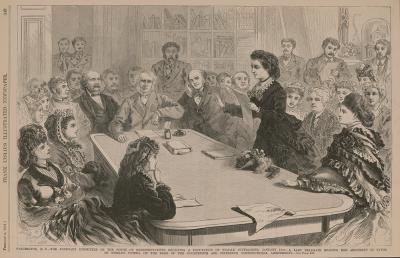 On January 11, 1871, Victoria Woodhull became the first woman to address a House committee when she testified in front of the House Judiciary Committee and argued that the 14th and 15th Amendments implicitly gave women the right to vote.
Retrieved from the Library of Congress