Native American Voices in the Capitol Collection
Sarah Winnemucca and Sakakawea
Listen to our podcast on your favorite podcast platform: Apple Podcasts, Google Podcast, Spotify, Anchor.fm, Breaker, Pocket Casts.
Using Internet Explorer or Microsoft Edge, listen on RadioPublic.
Sakakawea and Sarah Winnemucca
Native American voices have resonated through the Capitol since the early 1800s. The "Sakakawea" and "Sarah Winnemucca" statues represent two of these voices, whose stories have been told from differing perspectives over time.
Sakakawea journeyed with Lewis and Clark, sent by Thomas Jefferson in 1804 to explore the territory in the Louisiana Purchase. Yet, we know little about her experience or her appearance. The traveling party's journals recording the expedition included sparse details of Sakakawea. We have no descriptions or visual representations of her.
Sarah Winnemucca, in contrast, was photographed frequently as she traveled the country spreading awareness of events that affected her people, the Northern Piute. She was a teacher, a translator, a public speaker, an activist, and, after her 1883 autobiography, an author. She held such influence that she testified before Congress on her people's behalf.
To tell stories as complex as these, we sought multiple perspectives on Sakakawea and Sarah Winnemucca and the artworks that honor them.
Guest Speakers (in order of appearance):
Farar Elliot, Curator, U.S. House of Representatives
Cari Carpenter, Professor of English at West Virginia University and co-editor of the book "Newspaper Warrior: Sarah Winnemucca Hopkins's Campaign for American Indian Rights."
Sherry Ely-Mendes, great-great granddaughter of Sarah Winnemucca, Pyramid Lake Paiute Tribe
Sharyl Pahe-Short, Visitor Services Manager, and Adrienne Smith, imagiNATIONS Activity Center Manager, Smithsonian's National Museum of the American Indian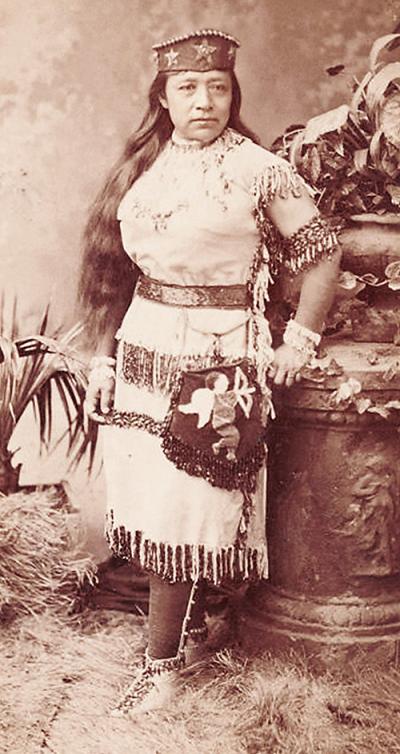 Sarah Winnemucca in her regalia
For more information on the petition and testimony of Sarah Winnemucca visit: https://history.house.gov/Blog/2018/March/3-26-Winnemucca-Petition/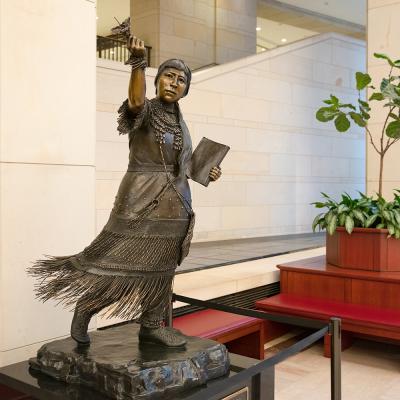 Sculpted by artist Benjamin Victor, this statue of Sarah Winnemucca was given to the National Statuary Hall Collection by Nevada in 2005.
Sarah Winnemucca belonged to the Paiute tribe and acted as a spokesperson for her people, giving more than 300 speeches to win support for them. Her 1883 autobiography, "Life among the Piutes: Their Wrongs and Claims," was the first book written by a Native American woman.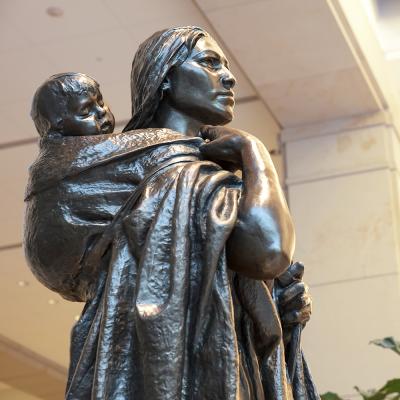 This statue of Sakakawea was given to the National Statuary Hall Collection by North Dakota in 2003. It is a replica of a statue designed by Leonard Crunelle that was dedicated in 1910 on the grounds of the state capitol in Bismarck at the entrance to the North Dakota Heritage Center.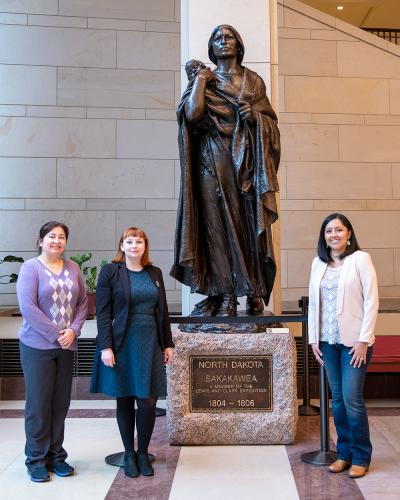 Guest speakers Adrienne Smith (far left) and Sharyl-Pahe Short (far right) stand with our host, Janet Clemens (center), in front of the statue of Sakakawea. Their portion of the podcast was recorded on location in Emancipation Hall, where statues of Sarah Winnemucca and Sakakawea are on display.
Examples of materials used in some types of Native American clothing referenced by Sharyl-Pahe Short during the podcast.