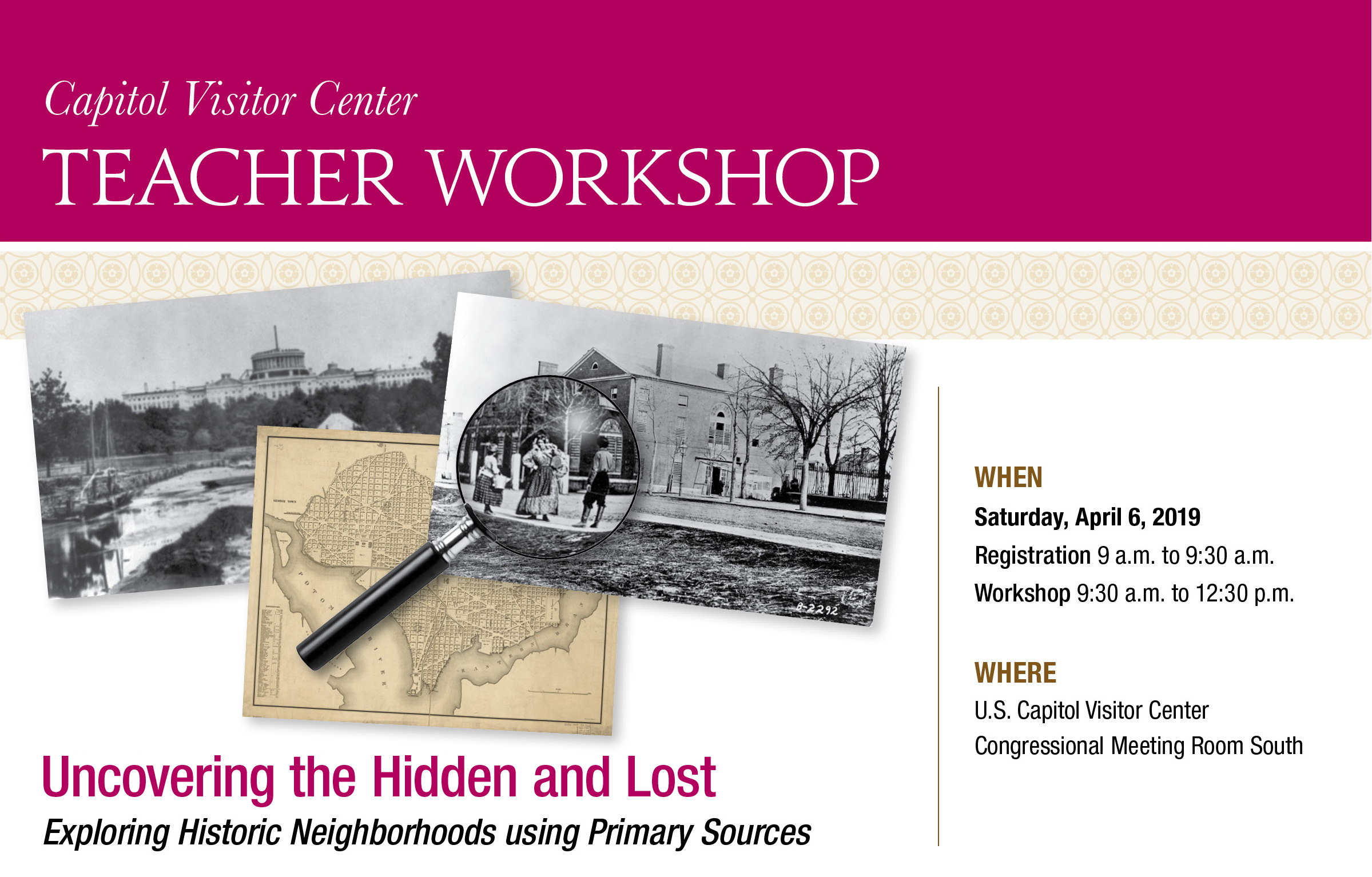 As the cornerstone was being laid in 1793, the U.S. Capitol became the epicenter of the new federal city's design. Streets, businesses and houses began to radiate out from Capitol Hill, and the landscape began to change. In today's bustling, modern D.C., it can be difficult to find glimpses of original Capitol Hill features.
The Capitol Visitor Center welcomes teachers to explore the history of the Capitol Hill neighborhood. Workshop presenters will provide historic evidence on the origins of Capitol Hill establishments through primary sources such as written documents, maps and photographs.
Special guest, Steve Livengood, Director of Public Programs at the United States Capitol Historical Society, will be a guest presenter during the outdoor walking tour of Capitol Hill.
Teachers will…
Participate in classroom activities including analyzing primary sources, such as written documents, maps and photographs
Learn where Thomas Jefferson lodged and George Washington owned houses
Create your own stereoscope for the classroom
Take home maps, stereograph cards of historic Capitol Hill sites, and visual analysis tools
Please click here to register. For more program details, please download the Teacher Workshop flyer.
Previous Teacher Workshops:
MYTHS FROM HISTORY CLASS AND LEGENDARY TALES
Saturday, October 20, 2018
Legends, folklore and myths have often been infused into our historical narratives and understanding of important American events, and sometimes become indiscernible from the actual history. In this workshop, teachers explored historic American myths – from across the nation, the Washington, D.C., region, and inside the U.S. Capitol building.
For information and resources related to myths and legends in history, please email education@visitthecapitol.gov.
GREECE, ROME, AMERICA: ANCIENT SYMBOLS FOR THE NEW REPUBLIC
Friday, July 20, 2018
This summer, the Capitol Visitor Center is pleased to offer a teacher workshop that focuses on the influence of ancient Greece and Rome on the development of American democracy and the building of the U.S. Capitol.
Teachers will explore images of ancient architecture, see the impact of this architecture in the Capitol, and view artwork that connects the Capitol to Greece and Rome.
For information and resources related to the role of Congress in federal holidays, please email education@visitthecapitol.gov.