The Capitol Visitor Center
The Visitor Center is the newest addition to the historic Capitol complex and provides an increased focus on visitor comfort, safety and security. At nearly 580,000 square feet, the Visitor Center is the largest project in the Capitol's more than two-century history and is approximately three-quarters the size of the Capitol itself. The entire facility is located underground on the east side of the Capitol so as not to detract from the appearance of the Capitol and the grounds designed by Frederick Law Olmsted in 1874.
The Capitol Visitor Center has always been considered an extension of the Capitol. The materials used to construct the Visitor Center were selected to match the colors, textures and materials seen throughout the historic building.
This care is evident in Emancipation Hall, named to recognize the contributions of the enslaved laborers who helped build the U.S. Capitol, and is the central gathering place for visitors coming to see the Capitol.
Rising 36 feet above the floor, the walls and columns of Emancipation Hall are lined with sandstone slabs marked by a variety of color and texture similar to the sandstone seen in the historic Capitol. Also in Emancipation Hall visitors can see the plaster model of the Statue of Freedom, several statues donated to the National Statuary Hall Collection, the Slave Labor Commemorative Marker, and the POW/MIA Chair of Honor.
Visitors can begin their Capitol experience by visiting Exhibition Hall, perusing the Gift Shops or dining in the restaurant. All tours of the Capitol start at the Capitol Visitor Center.
Exhibition Hall tells the story of Congress and the Capitol. Highlights include rarely seen historic documents from the National Archives and the Library of Congress, artifacts from around the country, and an 11-foot-tall touchable model of the Capitol Dome.
U.S. Capitol Map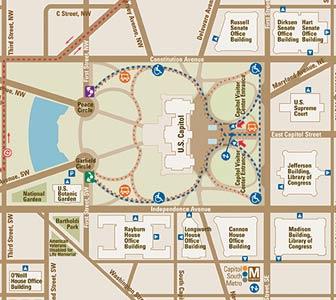 U.S. Capitol Visitor Center Leadership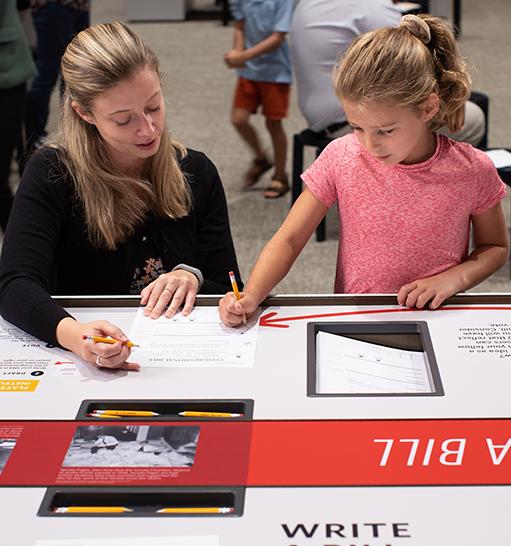 U.S. Capitol Visitor Center Leadership
Capitol Visitor Center Indoor Map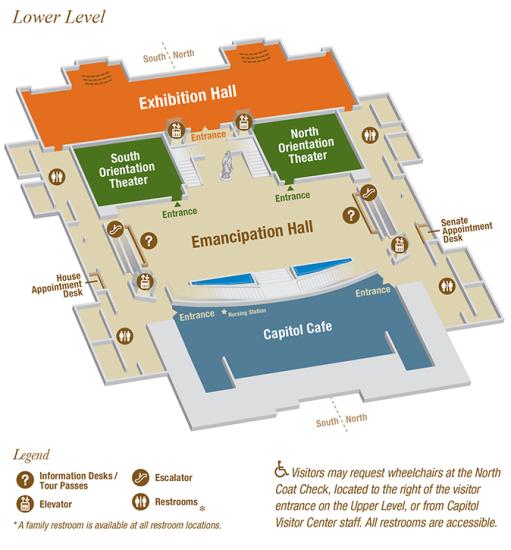 Capitol Visitor Center Indoor Map