Saturday, September 28, 2019
10 a.m. – 3 p.m.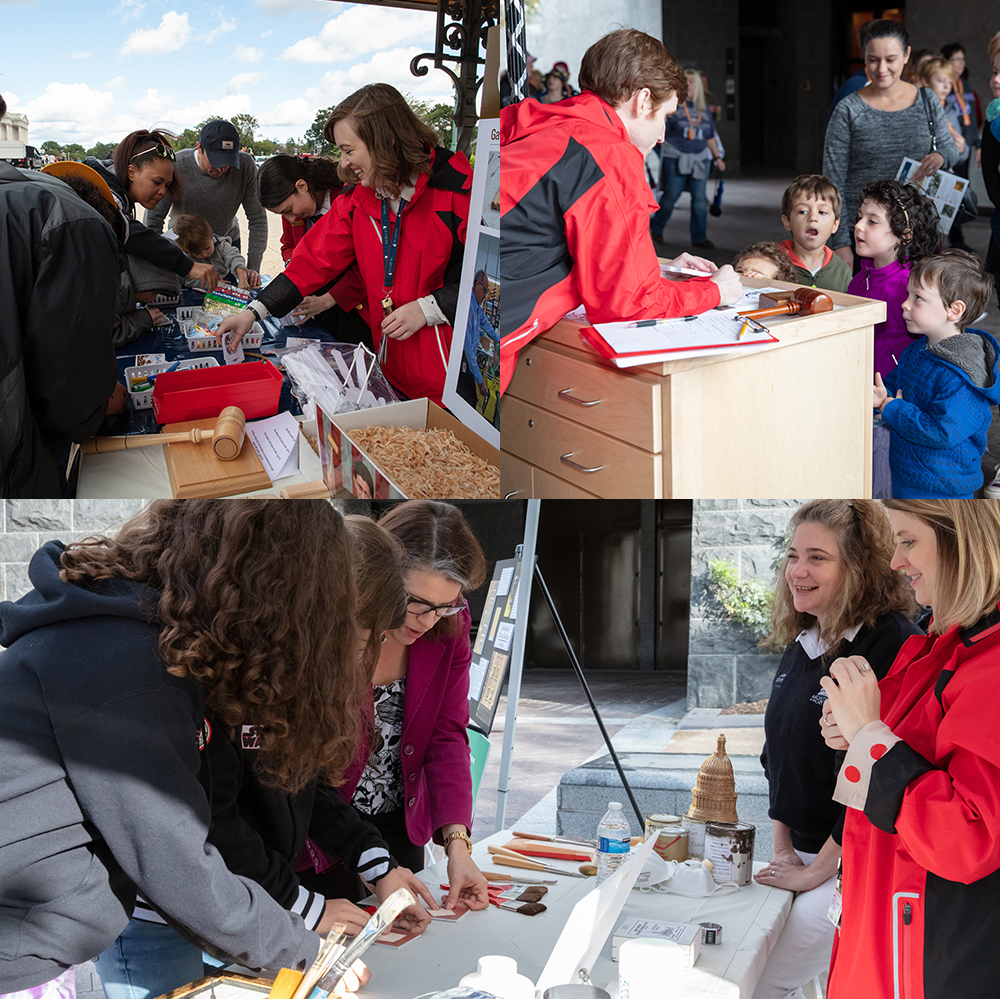 American Veterans Disabled for Life Memorial
2 p.m. Tour
The American Veterans Disabled for Life Memorial shines a light on lessons of courage, sacrifice, tenacity, loyalty and honor. Join a National Park Service Ranger to explore the first national memorial dedicated solely to disabled veterans and the stories they engraved on our history.

LOCATION: Just west of the U.S. Capitol and the U.S. Botanic Garden at 150 Washington Avenue, SW (Washington Avenue & Second Street SW).

For more information: https://www.nps.gov/nama/planyourvisit/american-veterans-disabled-for-life.htm

U.S. Capitol Historical Society
10 a.m. and 2 p.m. Creating Capitol Hill Walking Tour
Explore the history of Capitol Hill and discover how hundreds of acres of wooded farmland became not just the seat of our federal government, but a vibrant and varied community. From the inspiring to the colorful, Capitol Hill has been home to countless great stories, and our guides are excited to share some of them with you!

LOCATION: Tours will depart from the north entrance of the Capitol Visitor Center.

For more information: https://uschs.org

U.S. Botanic Garden
10 a.m. – 4 p.m. Celebrate Our Outdoor Gardens and Capitol Hill Day! Come enjoy our beautiful outdoor gardens while also celebrating all that Capitol Hill destinations have to offer. Experience Bartholdi Park and the three acres of garden space adjacent to the Conservatory and discover the amazing diversity of plants that thrive in the Washington, D.C. region. There will be music, a harvest from our Kitchen Garden, cooking demonstrations, a number of hands-on activities for all ages, and much more!

LOCATION: Regional Garden and Bartholdi Park (Rain Location: Conservatory)

For more information: https://www.usbg.gov
 
Belmont-Paul Women's Equality National Monument
10 a.m. – 2 p.m.
Visit the historic headquarters of the National Woman's Party to learn about the fight for the right to vote and the ongoing struggle for women's equality. Help us sew stars onto our Ratification Banner to mark the states that ratified the 19th Amendment to the Constitution 100 years ago. Fill our walkway with your own sidewalk chalk ratification stars. Hear the story about a cat named Saxon who traveled the country to tell everyone about women's suffrage, then decorate your own Suffrage Cat to take on your journeys. Explore our museum exhibits and earn your Junior Suffragist badge.

1 p.m.
Join a Park Ranger for a special program "African American Suffragists: Fighting on Dual Fronts of Gender and Race." Meet inside the house.

LOCATION: Corner of 2nd Street and Constitution Avenue, NE. Stop by our information table on the Capitol Grounds to learn more.

For more information: https://www.nps.gov/bepa/index.htm
 
Smithsonian National Postal Museum
10 a.m. – 2 p.m.
Throughout the day, customize a wide selection of free greeting cards, address envelopes in a new way during an artist-led activity that encourages creative design, and send a postcard to a child staying at the Children's Inn at the National Institutes of Health.

10:30 a.m., 11:30 a.m., and 12:30 p.m. - Story Time for youngest visitors

LOCATION: 2 Massachusetts Ave., NE, First floor, historic lobby

For more information: https://postalmuseum.si.edu
 

Folger Shakespeare Library
10 a.m. – 5 p.m.
Explore the world's largest Shakespeare collection – just one block east of the Capitol! Our current exhibition, "A Monument to Shakespeare: The Architecture of the Folger Shakespeare Library," tells the story of why the Folger came to be on Capitol Hill and how architect Paul Philippe Cret designed a building that is "The First Folio, illustrated." 

11 a.m., 1 p.m. and 3 p.m. Building Tours 
Tour our historic landmark building with a knowledgeable docent. Learn about our history, architecture, and exhibitions including the special miniature books exhibition in the Founders' Room during this one-hour tour. 

Noon Reading Room Tour
Discover our reading rooms where scholars from around the world research Shakespeare and his world. Docents will share the stories behind the "Seven Ages of Man" stained glass windows, the paintings and tapestries lining the walls, and architectural details in this one-hour tour.

On Stage  |  available with the purchase of a ticket

Folger Theatre
2 p.m. "I Henry IV" by William Shakespeare in the Elizabethan Theatre

Folger Consort
4 p.m. Music for Machiavelli at St. Mark's on Capitol Hill, 301 A Street, SE

LOCATION: 201 East Capitol Street, SE  

For more information:  https://folger.edu/
 

Library of Congress
10 a.m. Family Building Tour Saturday. Ask questions and use your imaginations while viewing highlights including a menagerie of medieval animals, pirate's gold, and the first map in the world to include the word America. 
For children ages 6-12. Children must be accompanied by an adult. Tickets are handed out on a first-come-first-served basis, starting at 9:30 a.m. Limited to 25 participants (including adults). Two adults per extended family group. 40 minutes. Meet at the Jefferson Ground Floor Info Desk.  

10 a.m. - Noon Thomas Jefferson Building Art & Architecture Explore Cart Delve into the impact of the industrial revolution on the design and construction of the Jefferson Building, learn about architectural symbolism of the Gilded Age, and touch materials and tools used to create the building that has become the heart of the Library of Congress. 

1 p.m. "Shall Not Be Denied: Women Fight for the Vote" Explore the story of the largest reform movement in American history through handwritten letters, speeches, photographs, and scrapbooks from the suffragists who persisted for more than 70 years to win voting rights for women. 

Meet at the entrance to the exhibition on the 2nd floor of the Jefferson Building. Limited to 20 participants. 

For more information: https://www.loc.gov/
Please check back as more events will be added in the coming weeks.